MLA Issues New Handbook, Still Insists 'Website' is Two Words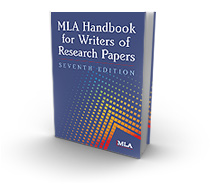 The seventh edition of the MLA Handbook has just come out. The Chronicle of Higher Education points to the considerable effort the publishers have made to give this "bible of the undergraduate paper-writing process" a substantial web component. They have a password-protected website that contains the full text of the manual along with a whole ton of support material.
Good for them! It's great they're making such an effort. But what I want to know is why they still refuse to acknowledge that 'website' consists of only one word. Doing so would be a sign of true progress.
UPDATE (2020): Just ask Merriam-Webster...