Fonts Are the New Black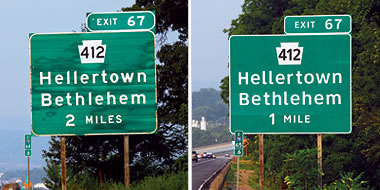 I never thought I'd be reading this in the New York Times -- especially in relation to highway signs:
"Fonts are image, and image is modern America".
It comes from an excellent article called "The Road to Clarity" by Joshua Yaffe that looks at signage on U.S. Highways and efforts to improve readability. Begun almost twenty years ago, the process marks:
... the first time in the nation's history that anyone attempted to apply systematically the principles of graphic design to the American highway.
The author then embarks on a breathless history of how the new font for road signs, Clearview, was developed using it as a vehicle to explore issues in Design and Typography. At one point, he declares:
Stodgy or irreverent, timely or timeless, typography helps establish the ethos and identity of a brand — and it can have a similar effect on the highway.

"Type on the roadway is very much like the corporate identity of a country," says Graham Clifford.
Touching base on everything from Milestones in Roman Times to Volkwagon Ads in the Sixties, the article serves as a wonderful introduction to the importance of getting the lettering right.