Person of the Year: Ms. Dewey (Janina Gavankar)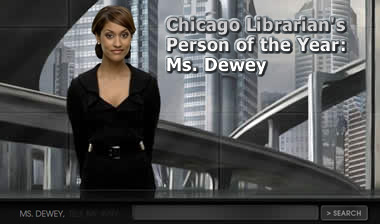 After a pain-staking process of vetting countless candidates, I'm pleased to announce that this year's CL Person of the Year is none other than Ms. Dewey (aka Janina Gavankar).
In a year, when the best that Time Magazine could do was award its prize to a crummy Piece of Mylar, we here at CL have boldly designated a persona whose sole purpose in life is to drive traffic to a search engine! Her incessent fidgeting, banging on the monitor and entreaties to "type something here" go beyond the call of duty and serve to remind us that the best reference interview technique oftentimes consists of encouraging the library patron simply to "try again".
While the precision of her responses needs some work, her enthusiam and charm -- together with a willingness to drop everything and come to our aid serves as a fine example for those of us involved in bibliographic instruction and public service. Others might deride her as nothing more than a flash animation but her panache ought to make her a welcome addition to any (virtual) reference desk.