Drupal4Lib BoF at ALA in Chicago (7/12) - Report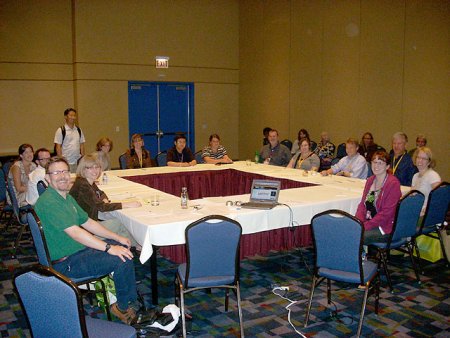 I'm delighted to report that we had a wonderful Drupal4Lib BoF with maybe 25-30 people (agenda here). You know it's a good sign when after the thing is over, you wish it had lasted maybe another half an hour or more!
Round Robin of Participants
People introduced themselves and discussed their interest in Drupal. This being ALA, we had people from all parts of the country (Nevada, New York, LA) and from all library types (academic, public, consortium). Some had already implemented Drupal in their institution while others were still in the planning stage.
Drupal4Lib LITA IG
We discussed our 'Drupal4Lib LITA IG' and how maintaining the IG conferred a number of advantages, namely, the continuing support from LITA as well as the availability of a meeting room come conference time.
Ron Peterson from Univ. of Delaware generously offered to serve as Chair for next year and to help out with arranging our meeting in DC. Yea Ron!
Upcoming Version: Drupal 7 ('D7')
We next proceeded to the actual meat-and-potatoes of our get-together, the first topic being the upcoming version of Drupal, affectionately known as 'D7'.
We were fortunate to have among us the Drupal expert Cary Gordon. Cary is a Drupal Board Member and maintainer of the Drupal Group for Libraries. He was particularly helpful in explaining some of the finer points of the coming release.
This gave people, I hope, not simply an insight into the particulars of 'D7' but also a general idea of the life-cycle of Drupal projects, when to upgrade and what to expect.
Discussion of Websites & Projects
Alas, we only had time for three presentations.
The first was by Chip Halvorson of the Alachua County Library District who discussed the redesign of his institution's website using Drupal.
Next up was Sean Fitzpatrick of ALA who showed us a Drupal installation -- on his netbook, no less -- that he was working on to make publishing news easier on the ALA site.
Finally we had Lauren Henderson from the Troy Public Library (Mich.) who gave us a sneak peek of her library's new site, also based on Drupal.
Conclusion
And that was all the time we had!
I'd like to thank all of the participants, particularly Ron Peterson for agreeing to be our new Chair. I look forward to seeing everyone next year at ALA in DC and before then maybe through our ListServ Drupal4Lib.org or through the Drupal Group for Libraries.
Thanks again to you all!
LEO
Chicago, IL.