Link of the Day: Only Human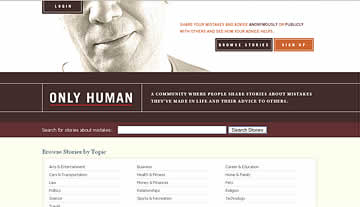 Website 'Only Human' is the True Confessions of social networking sites. It bills itself as a "community where people share stories about mistakes they've made in life and their advice to others."
A glance at some of the most recent 'mistakes' includes, "focusing on my studies and not getting a job", "getting in trouble with the cops" and "bringing along/almost finishing 2/3 a bottle of rum". Based on these experiences, authors can include one-line 'words of advice' that are then prominently displayed with special highlighting. Readers in their turn can leave comments and rate posts by clicking on a box marked "I learned from this".