Report on the Drupal4Lib BoF at DrupalCon Portland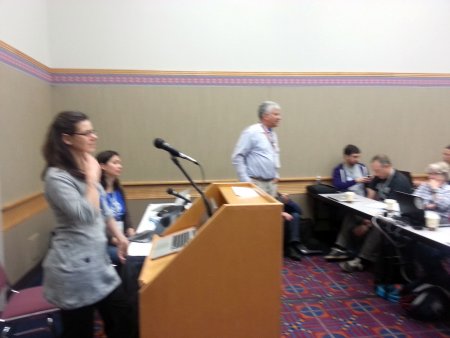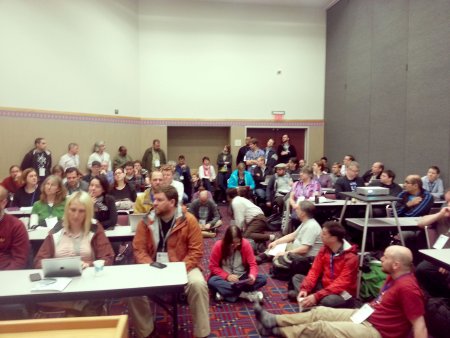 Okay, they say this happens every time but maybe 19 people signed up for the event -- and 67 showed up. I'd say it was 'standing room only' except that maybe a dozen people were sitting on the carpet in the central aisle. People were standing alongside all the walls and needless to say there wasn't a free chair in the place.
Even with that number of people, we went from person to person, each telling us his or her name and institution. We had a good mix of academic, public and special libraries. This variety showed up repeatedly in the quality of the discussion.
Nina started things off with a presentation of the new Arapahoe Library District website. We next moved to an open discussion on everything from Drupal's compatibility with repository software such as Islandora to the possibilities of Drupal replacing the ILS entirely. One theme that manifested itself through the course of the discussion was the strong desire to collaborate more on projects. Possible vehicles for this include the Drupal Library Group, the Drupal4Lib ListServ and of course, the Drupal4Lib LITA IG.
Clearly we could have gone another hour but 60 minutes was all we had. People were encouraged to continue the discussions throughout the day and also, at our Drupal4Lib IG Meeting at ALA Chicago on June 30 (10:30a-11:30a).